Barnum Comes to Thornbury
September 13th, 2019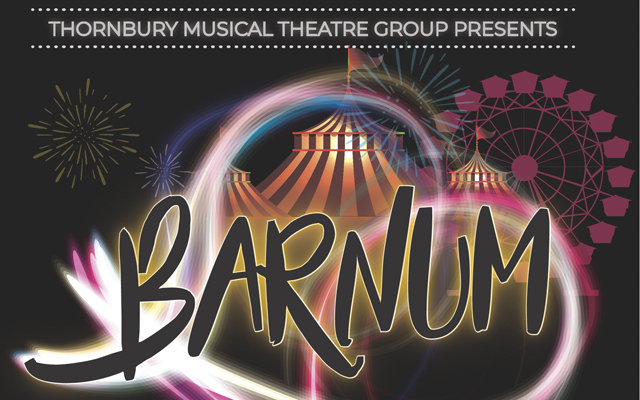 Thornbury Musical Theatre Group are delighted to be performing the circus based musical 'Barnum' at the Armstrong Hall in Thornbury from Wednesday 23rd to Saturday 26th October.
We have a fantastic directing team at the helm for this magnificent show, which promises much in the way of stage presentation and skill. Steve Blackmore (Director), has a wealth of experience directing for BMCC, BAOS and his own production company The Worx Productions, Brendan Casey (Musical Director) will be knocking our vocals into shape and Donna Podesta (Choreographer) will be casting her own magic on the company's moves.
Michael Crawford famously played the role of Barnum at the London Palladium and in the film version and we are delighted that Rose Bowl Award-winning actor Simon Vardakis will be more than filling those dancing shoes.
This musical tells the story of Phineas Taylor Barnum the self-proclaimed Greatest Showman on Earth!  P T Barnum will never be satisfied unless he is living a life full of colour, fame and fortune.  No matter what his wife Charity might say it won't be easy for Barnum to keep his feet on the ground. This show marries musical theatre and circus to tell the true story of a charming man who wanted to sell his vision to the world. From humble beginnings selling lottery tickets to being one of the world's most celebrated showmen, courted by Presidents, Kings and Queens and producing such greats as the magnificent Tom Thumb, Jenny Lind and Jumbo the Elephant. A joyful and moving musical portrait of the nineteenth century's greatest show-biz legend, 'Barnum' is a colourful, dynamic spectacle full of circus, side-show legends, toe-tapping songs and immense heart. Come follow the band!
Performances will be at 7.30pm every night and also a matinée on the Saturday at 2.30pm.
For tickets (priced from £10.50) go to  www.tmtg.org.uk  or contact the Box Office on 07516 270140. Tickets will also be available at Lisa Costa Residential Sales and Lettings at 53 High Street, Thornbury from Saturday 21st September. The staff are big fans of TMTG and always delighted to meet our audience members, but remember it's a very busy office so please be patient if they're not available the first time you call.
For more information about 'Barnum' go to our website  www.tmtg.org.uk  or follow us on Facebook, Instagram or Twitter.
Back to news