Mama Bear's Beth Celebrates 10 Years at Childhood Nursery
November 13th, 2019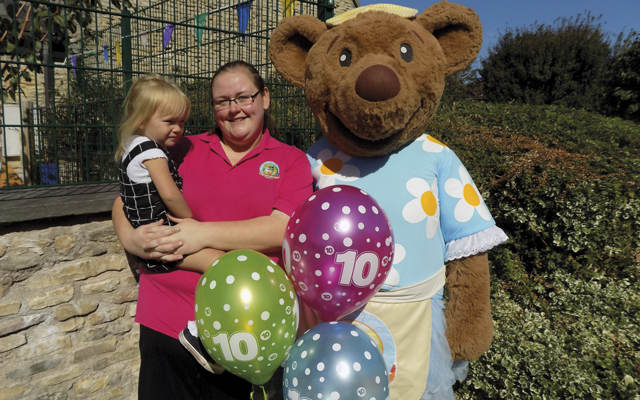 A nursery worker from Bradley Stoke has celebrated 10 years of service at the same setting she attended herself as a child.  Bethan Jones is an early years educator at the Mama Bear's Day Nursery and Pre-School in Baileys Court, Bradley Stoke where previously she attended as a pre-schooler.
Having celebrated her 10th anniversary with the family-run nursery group in its under-three's room, Bethan said she is now part of the furniture!
Bethan said: "Whilst studying for my A-Levels at school I helped out at the nursery as bank staff and thoroughly enjoyed it, so naturally I wanted to pursue a childcare career.  When I was given the opportunity to work within the nursery as a full-time member of staff I jumped at the chance and have since gained a Level 3 Childcare Diploma. In the past 10 years I have cared for a great number of children, watching them grow and move onto school and new adventures. I really enjoy my job and can't see myself doing anything else. Watching the children grow and develop into confident individuals is so rewarding.
"I have such fond memories of coming here myself, along with my siblings, so it is great to now help build memories for more children coming here."
Bethan works within the under-threes unit at the setting which provides a home-from-home environment for children.
Mama Bear's Baileys Court nursery manager Emma Tolley said: "Beth has been here so long she really is part of the furniture and both children and parents miss her when she tries to sneak away for a holiday or well-deserved break!  Beth is great at providing many learning opportunities for the children and supporting their individual needs through fun activities which promote their learning and development.  Parents speak highly of Beth and we regularly have families returning with younger siblings for her to care for. We're very lucky that Beth attended our nursery all those years ago and decided to come back and work here!"
Mama Bear's Day Nursery is a family-run business with settings across Bristol, Somerset and Devon. The day nurseries are aimed at providing children with their first vital level of education to give them a head-start when they start at primary school.
If you would like to find out more about Mama Bear's visit www.mamabear.co.uk
Back to news